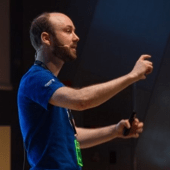 Sebastian Witalec
Head of Developer Relations – Developer Relations
Sebastian is a seasoned Software Engineer and a Developer Advocate. In his career, he worked with a wide range of tech, like backend engines searching through postal addresses, mobile frameworks (NativeScript), chatbots, drones, front-end dev with Angular, etc.
He is passionate about building interesting projects, teaching and public speaking.
Outside work, he loves to feed ducks, play football and take photographs.